We protect hightech – also in your train.
Every one of us enters a tram or train carriage at some point in our lives. When we do so, there is a tonne of work being carried out beneath our feet. For instance, the 25 000 V operating voltage from the overhead power line is transformed to the voltage for operating the lighting and on-board power supply.
Protected by a sophisticated underfloor enclosure made by the caleg-gruppe. Based on a welded, riveted construction, ultra-stable steels, aluminium and stainless steel are combined with each other to address both the taxing demands of railway-specific vibration testing and weight requirements. This cabinet made by the caleg-gruppe is for protecting the converter and travelling guests, and has an assured minimum usage of 30 years.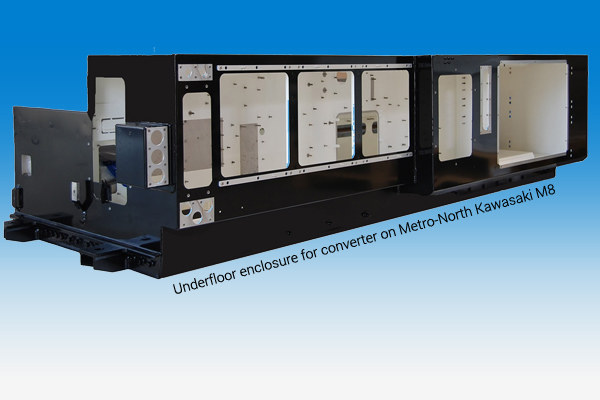 Your one-stop supplier for hightech protection
The caleg-group is the specialist when it comes to keeping your electronics safe from harmful environmental influences.
Our enclosures and cabinets protect against:
• mechanical stress
• environmental factors (water, dust or sunlight)
• electromagnetic incompatibility (EMC)
Our cabling and test procedures protect against:
• electrical faults
Our cooling and heating solutions protect against:
• overheating
• undercooling
With the caleg-group, you have a one-stop supplier for this type of complete protection, ensuring perfect coordination. Every product that we produce is an individual solution tailored to the unique requirements of every customer.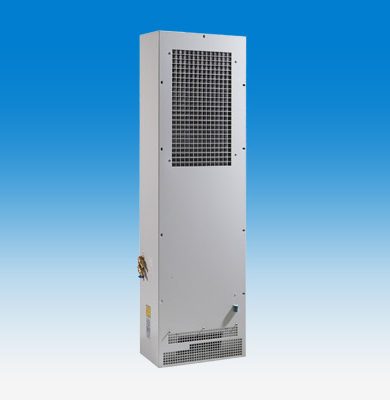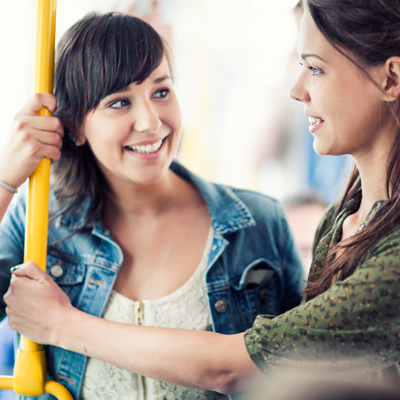 Keeping your customers safe
The protection of your electronic components is important, but the safety of the people using it every day is even more important. Because with all our know-how about design and production and the standarts associated with it, the safety of our customers has top priority.
Since we do not only manufacture but also design enclosure solutions, we can take the user-friendlyness  of your system into account and implement it in our designs.
Thus, we protect your customers and make working with your hightech equipment a pleasant expereance.
enclosures and cabinets for electronics – direct from manufacturer
From the concept to the finished product
Design – where the product development process begins
The required properties of a future product are defined as early as the design stage. This applies above all to the standards that the product will have to meet. Our competence extends beyond national boundaries. DIN, ISO, UL, CA, IP, NEMA and various railway standards are part of our daily business.
Using the latest CAD technologies (HiCAD/Inventor), as well as our own automated design program, the initial steps towards a product solution are taken. When it comes to production technology, the caleg-group plant standard is incorporated into the future product during the design stage too. This ensures an optimal price-performance ratio.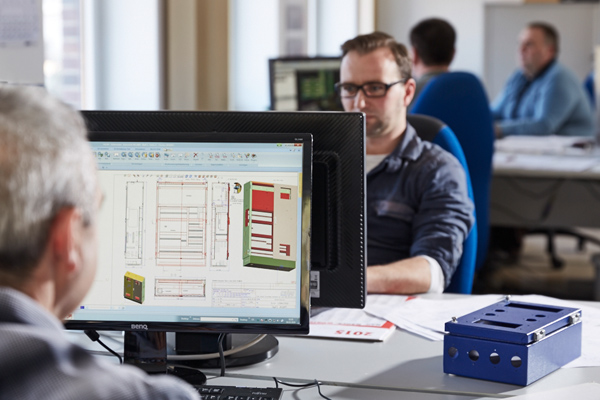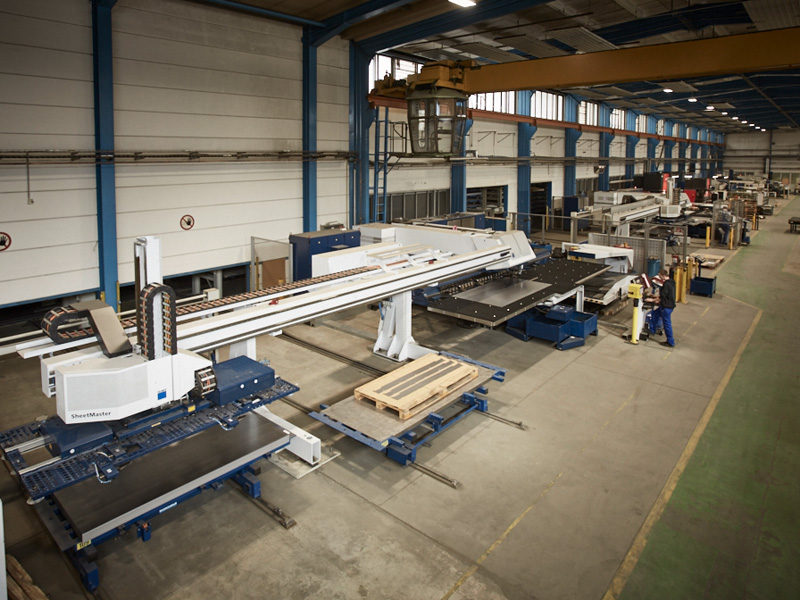 Modern production lines with optimised processes
The caleg-group uses the most advanced CNC-contolled solutions for punching, laser cutting, bending, welding and PU sealing foams. Additional automated and semi-automated production processes are used in our welding and powder coating areas. Not only the system themselves, but also the solutions adapted to the manufacturing process play an important role here.
Thanks to its quickly convertible machine systems, the caleg-group can offer a wide variety of a lot size-optimized production possibilities based on the highest quality standards. Long-standing partneships with machinery suppliers ensure that we are able to continually develop and improve the machinery we have.
Surface coating – component assembly – wiring
Depending on the intended application and usage conditions, different surface coating and corrosion protection systems are derived from the based material and coating powder. After completion, the goods are temporarily stored on the customers premises for just-in-time further processing or prepared for direct dispatch.
We can also take care of component assembly and wiring based on the same standards.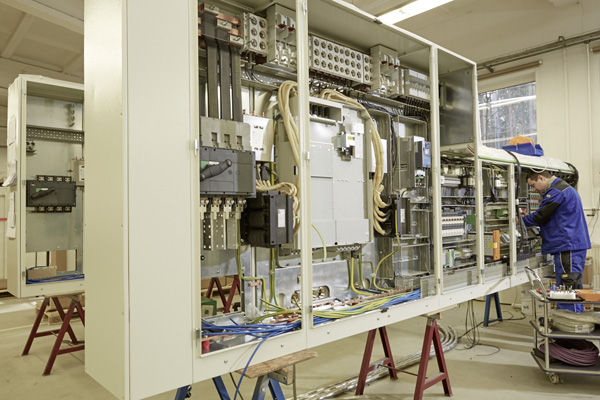 The Calau plant is caleg-groups´s flagship plant, as well as its headquaters and has a production area of over 15.000m².
The Saarbrücken plant has a production area of 7.00m². This is where the caleg-group produces its custom-made 19-inch racks and plastics.
The 4.000m² Lubsko plant specializes in metalworking and cable assembly.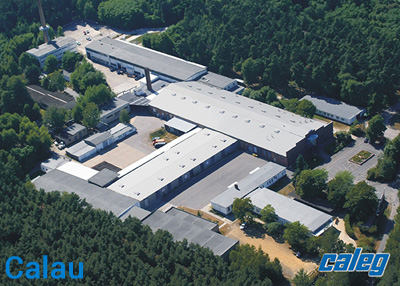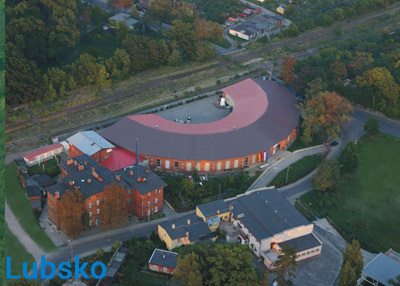 Companies belonging to the caleg-group
The caleg Schrank und Gehäusebau GmbH is the "manufacturer" of the caleg-group. They produce and develop highly individual enclosure and cabinet solutions in stainless steel, steel sheet, aluminium and plastic.
The cam GmbH ist the "service procider" of the caleg-group and is responsible for assembly, component asdsembly and wiring work. A further core competence is the development an installation of enclosure air conditioning and ventialtion.
More than 400 caleg-group employes are currently shaping the future on a production area of over 26.000m² with state-of-the-art equipment: from the development of customized enclosures and enclosure solutions to a wide variety of cabinet solutions, wiring and component assembly.
The caleg-group is represented by sales offices in France, Switzerland, the Netherlands, Austria and Sweden.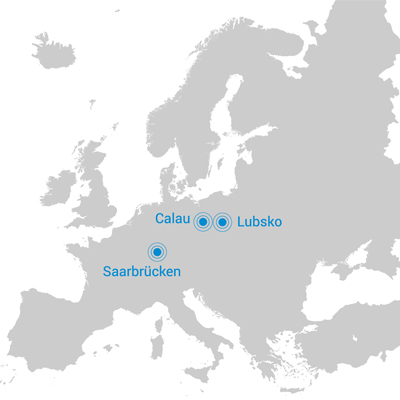 ►Punching and laser cutting
1 x Trumpf TruMatic 3000
1 x Trumpf TruMatic 5000 FMC
2 x Trumpf TruMatic 6000 FMC
3 x Trumpf TruMatic 7000 FMC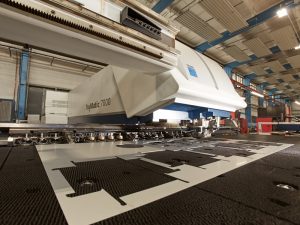 ►Fully automated metal sheed warehouse
We can process sheets up to
3000mm x 1500mm
and to a thickness of:
– black plate:       8mm
– stainless steel:  4mm
– aluminium:       8mm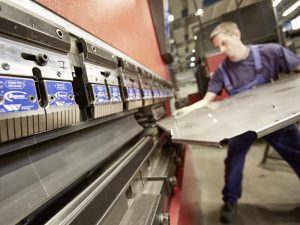 ►Bending,folding and rounding
10 x Amada
2 x ADIRA
1 x Weinbrenner
1 x Schröter PowerBend
1 x rounding machines
We can process up to a lenght of 3400mm  with 170t max. pressure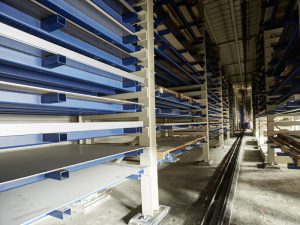 ►Welding
– TIG, MAG and plasma
– steel sheet
– stainless steel
– aluminium
– stud welding robot up to size M12
– finishing with sanding or blasting (stainless steel)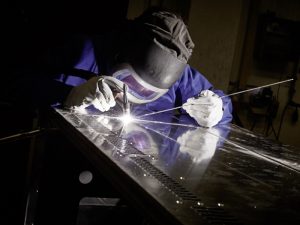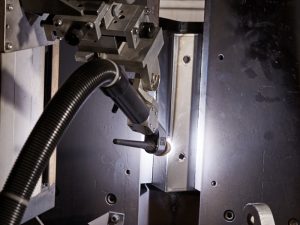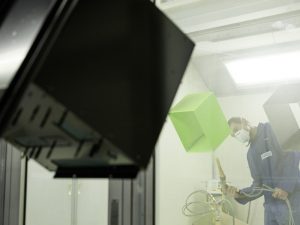 Final processing
-powder coating
-foaming
-final assembly
-aluminium anodization
-printing
-cable assembly
-wiring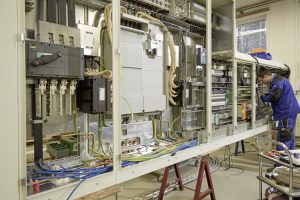 Some examples from the manufacturing
Contact us:
caleg Schrank und Gehäusebau GmbH
Gahlener Weg 15
D-03205 Calau
Phone +49 (0) 3541 84-0
Fax +49 (0) 3541 84-530
E-Mail: vertrieb@caleg.de